Okay guys, I'm trying to do this in English – for the first time ever! So please, be forgiving for I will definitely make some mistakes and use some wrong words and terms in introducing the characters of David Melling to you. For example the commas – I don't know where to put them.
But enough of language, let's get started!
More than Hugless Douglas
So probably you know David from his wonderful character Hugless Douglas (Paulchen in Germany), the young fluffy bear longing for a hug in his first adventure. He's gorgeous! I love him so much that I once asked David permission to paint a huge picture of Douglas on the wall of our nursery. He said yes, and now the bear, some sheep and the rabbit are watching over our sons sleep.
To date, Douglas has had many adventures. For example he was sleeping at Rabbit's House (well, not really …), having a birthday party and trying to bake. As I said before, a lovely character! But do you know all the other characters David has created?
The Ice Prince
To be honest, Douglas isn't my absolutely favourite … I truly adore the little Ice Prince Jack Frost. There are so many fantastic creatures living in the Enchanted Forest; there are Goblins, Bing Bong Bandylegs and there is Cowslip!
… a tall and gentle creature with hairy knees …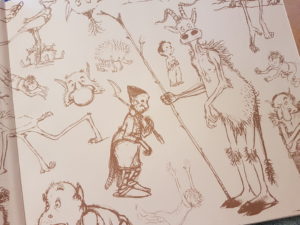 The story about the little guy being found in the woods with no name wearing nothing but his pants is heartwarming, and there are so many beautiful illustrations … Sometimes I just sit there and look at the pictures in awe. It's like a movie starting in my head. And here's the best about it: Till last Wednesday I only had the 10th Anniversary Signed Edition in English (well, "only" … it's signed! And it sparkles and it's a hardback and it's just AMAZING!). But now I've got hold of a German hardback edition (it's not available anymore, so I had to search the internet for it, a long, long time)! I can't wait to read it to my son.
Enough of Jack Frost (read that book!) …
Goblins!
The Goblin series (inspired by the Jack Frost picture book), sets off somewhere completely different. Did you know David Melling has a whole book series about hidden goblins? A total of five books, with each one concentrating on another living space of funny creatures with telling names like Saggypant, Septic or Stinglip. We will visit stonelands, puddles (my favourite :D), trees, shadows and a house full of ghosts and windy nibblers (hilarious!). Sadly they're not available in German.
These stories are written for children about ten years up and they're – how could it be any different? – illustrated by David himself. You can find out more about them here and tell David that he's doing absolutely well in writing books for older children. Maybe he'll think about doing some more then. *cough*
David Melling and Vivian French
There's another series for older children which David illustrated, but the author of these is Vivian French. I'm of course talking about Knight in Training. Up until now, five books are already published, the sixth and last one will be out in May 2017.
In this story we're following Sam J. Butterbiggins on his way to become a Very Noble Knight and we're witnessing his troubles with the assignment (he has to live with his aunty and isn't allowed to do any knightly stuff at all!). He will make friends with the strangest creatures and work his way through six quests, despite a lot of difficulties. This series also isn't available in German … and I don't like that.
Some more picture books
So back to the picture books and some more funny characters. I assume you know The Scallywags (in German Die Wilden Strolche), a group of wolves trying to change their wolfish behaviour to fit into the polite world of all the other animals. I adore these wolves, I truly do! In English there's a second adventure still available.
Or what about the knight and his horse hunting down missed kisses, making wishes and going to sleep? You heard about them? No? Go, change that!
About The Totally Terryfying Three?
The Star-faced Crocodile?
Just like My Mum and Just like My Dad? Best books for new parents by the way – and so funny.
And many, many more …
All right, let me stop here. If you're interested in finding out more about his books you can find them all on David's website (or ask you're local bookseller for help). There's also a blog with hopefully some new blogposts to come soon (Mister Melling, I'm eyebrow-wiggling here!)
Let me just tell you one more thing: On David's Instagram account you can find someone I had a crush on from the first sight. There's this tiny little guy looking like a balloon and doing the funniest things … I don't want to give away too much, so check him out on your own. It'll be worth it, I promise.
I  hope you had a great time reading this – I definitely had fun writing it and roaming through all the wonderful books again. Unfortunately not all the books are still available in German (or have never been), so it might be necessary to search for them in a second hand bookshop (Medimops for example has some copies left of Der kleine Eisprinz … just a hint).
By the way, GENIUS!
(Thanks for reading this through, David, and thanks for telling me that genius is spelled with one s! :D)
(In diesem Blogeintrag wurden Links zu mehreren vertreibenden Verlagen sowie Buchhandlungen gesetzt. Es handelt sich um freiwillige Erwähnungen, keine Werbung!)